A couple deserves a lovely celebration on their 25th wedding anniversary after spending a quarter-century together. This silver anniversary is an excellent time to look at 25th wedding anniversary ideas for parties and gifts. Create silver anniversary jewelry gifts for your spouse or wife. Discover our jewelry selection to discover silver locket necklaces, engraved cuff bracelets, and sterling silver bracelets to commemorate their 25 years together. You may even personalize decorations to use as silver home décor.
We are here to assist with all you'll need to emphasize the previous 25 years of love and rekindle the flame for the many years to come, from a 25th-anniversary cake to gifts to a celebration of this milestone anniversary.
Find 25th Wedding Anniversary Gifts
If you're wondering what to get your spouse or relatives for their 25th wedding anniversary, you can order a romantic heart shape cake design. The 25th wedding anniversary is a highly memorable day in a couple's life. So, be sure to choose the ideal present to commemorate this achievement. Whether you're buying an anniversary present for your spouse, a single individual, or a couple, you should consider the recipient and what they want in their 25th-anniversary gift. See below for all of our 25th wedding anniversary ideas.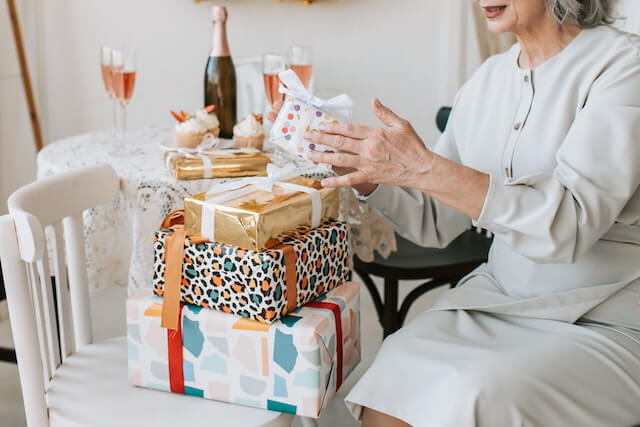 For the Silver Anniversary, give something polished.
Jewelry is a popular choice for 25th wedding anniversary gift ideas, particularly for the Silver Anniversary. Consider making bangles or a silver necklace as anniversary gifts for spouses, moms, or other ladies. Surprise her with anything from a locket to a charm bracelet or even a personalized memento box for her jewelry and other accessories. You may personalize her favorite new jewelry item with your choice of images and engravings. If it's for someone other than your wife or husband, you could even motivate her companion sometimes to bring home a few extra dazzling presents.
Design 25th Wedding Anniversary Gifts For Her
When selecting 25th wedding anniversary gifts for your wife or another lady in your life, consider what she enjoys the most and include them in your creation. Many women, for example, like gazing at images of their relatives. Consider making a custom-framed poster or wall art to commemorate these momentous occasions. Add any personal data, such as their names or favorite phrases, to further personalize this memorable present. Because it's a silver anniversary present, you may include a wedding picture or images of her and her partner. You may also mention their wedding date to mark this occasion.
Choose His Ideal 25th Wedding Anniversary Gift
Of course, if there are 25th wedding anniversary gifts for women, there must be 25th wedding anniversary gifts for them. Calendars, tech accessories, travel mugs, and even desk caddies may be personalized with several family group photographs or images of the happy couple. For example, if he spends much time at his desk, make him a present that reminds him of his family at work. Then, anytime he grabs for a favorite pen or double-checks the calendar date, he'll have a smile-inducing reminder of his loved ones.
Silver Home Decor Can Help You Grow Your Space
Home décor, like jewelry, is a popular gift for couples celebrating their 25th wedding anniversary. Silver sheens may be included in any of these gifts and many others to tailor the color scheme for display as silver home décor. Consider customizing a cushion with photographs and messages or fleece blankets for them to snuggle up with while watching movies or TV programs. You may also go through our metal prints and picture tiles made of aluminum for a sleek, contemporary look. These gifts include both 25th wedding anniversary greetings and the hope that you will spend many more years living happily together in this house.
Make Keepsakes for the 25th Anniversary
Looking back on the 25th Anniversary, popular anniversary gifts have become treasures of some type. For example, you might create a photo book containing images from the couple's wedding day 25 years ago, everything that has transpired afterward, and even moments they enjoyed before that unforgettable day. This might be the couple's favorite anniversary present when paired with silver designs and significant inscriptions or personal phrases. Browse our customized gifts and room décor to find the ideal way to commemorate their 25th wedding anniversary.
Get Ready for the 25th Anniversary Celebrations
Bring your family and friends together for a 25th-anniversary celebration to fully honor this great accomplishment. We can help you with all of your anniversary invites, as well as cards, gifts, and décor. Add a picture of the happy couple from then or now to your chosen design, along with the party date and information, and send it to everyone on the guest list. When the big day approaches, they'll be thankful that all their loved ones could join them in toasting their 25 years of marriage. You may even rejoice with them, surrounded by the colors and tones of their wedding theme. Have a great time wishing them a happy 25th wedding anniversary in front of everyone.
Choose A Present To Commemorate 25 Years Of Marriage
A couple might be surprised with so many gifts on their 25th wedding anniversary. Consider the goods that they will both utilize around their home. A Christian couple, for example, would appreciate a personalized double-layer cake commemorating their marriage. Someone else could like a kitchen floor mat with their surname, picture frames, or another décor with photographs of their sweethearts, children, or even pets. From ceramic trivets to desktop plaques, there is something for everyone for their 25th Anniversary.
You can order designer cakes online from Yummy Cake as per your choice. Visit your website to order more!